CLINICAL LEADERSHIP
VIRTUAL ACADEMY
New feature! After viewing the webinars, join us for monthly office hours starting in September 2020! Office hours will give participants access to the experts. Faculty will provide brief content updates, based on new research and trends in health care leadership. You will have the chance to get your leadership questions answered in real time.
♦ Access the experts ♦ Content updates ♦ Get your questions answered♦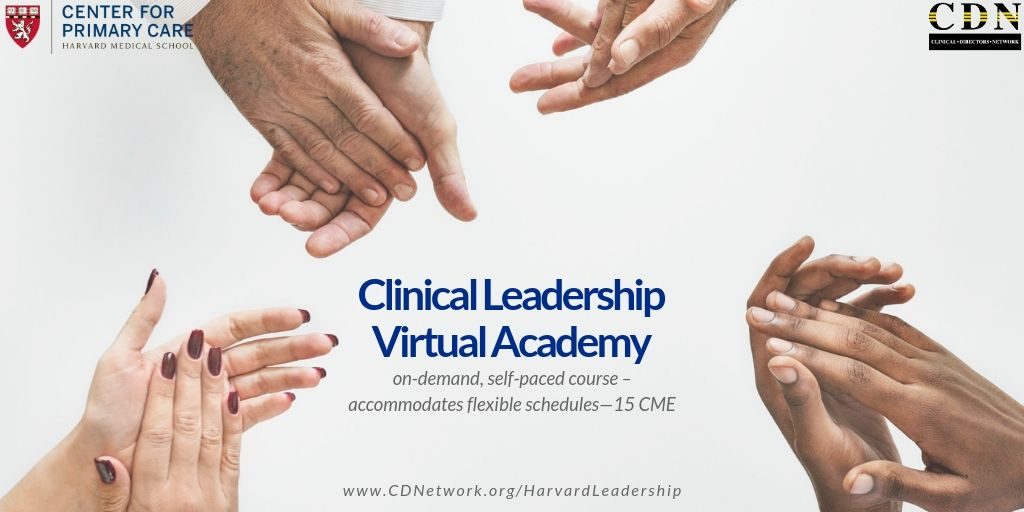 Join the Harvard Medical School Center for Primary Care and Clinical Directors Network, Inc. (CDN) for a 10-session webcast series designed to cover the fundamental concepts and skills for leading change within your practice. This course will teach you how to identify your own leadership style, understand how to effectively lead a team, experiment with frameworks for leading change within your practice, and more!!
Session 1: What do leaders do?
During this session, participants will review the difference between leaders and managers, and understand a leader's key activities and qualities. Participants will dive deeply into one of the core competencies of leadership, setting a vision, and understand how vision affects organizations.
Session 2: Understanding different leadership styles
This session will review the six styles of leadership, the effects of each style, and when to use each style. Participants will also have an opportunity to reflect on his/her own leadership style as well as other styles that they have observed in the workplace.
Session 3: The E's of Leadership
This session will focus on describing the three Es of leadership: emotional intelligence, emotional agility and emotional courage. Participants will reveiew strategies to improve these Es as a leader, understand how the Es connect to each other, and discuss why the Es help make stronger leaders.
Session 4: Building a team
This session will explore key elements of teams in healthcare settings and will set the stage for the three sessions that follow in this module. In this session, participants will review what a team is and what makes a team effective.
Session 5: Hiring strategies
This session will start with the first step in building a team: the hiring and onboarding process. Participants will identify successful strategies for developing job descriptions, interviewing candidates, negotiating an offer and incorporating a new hire into your team.
Session 6: Optimizing The Team
This session aims to give you some concrete strategies for day-to-day management of your team, including managing meetings, giving feedback and team problem-solving.
Session 7: Managing Conflict and Difficult Conversations
This session will focus on strategies for managing and resolving conflict. It will also examine the elements of a difficult conversation and discuss a framework for holding those conversations.
Session 8: Quality Improvement: Tools and Techniques
This session will focus on a review of the quality improvement (QI) tools and techniques for process improvement. Participants will discuss how QI supports change within their teams and organizations.
Session 9: Leading a Changing and Diverse Workforce
One of the core competencies of leaders in today's workplace is leading an inclusive and diverse team. In this session, we will explore the changing nature of the workforce and describe some of the key challenges diversity creates within organizations and teams. The session will also explore the unconscious biases that impact decisions we may make as leaders and how to effectively mitigate biases. Finally, the session will suggest some strategies for leading a diverse workforce so that you may be steward of diversity within your organization.
Session 10: Leading a Joyful Practice
This final session will discuss how to lead in a way that supports joy, purpose and meaning in work in an ever-changing and challenging healthcare environment.
For more information regarding any of these events, please contact us at Phone: (212) 382-0699 ext.253 | Email: Operations@CDNetwork.org
Erin E. Sullivan, Ph.D.
Research Director, Center for Primary Care at Harvard Medical School, Lecturer, Department of Global Health and Social Medicine, Harvard Medical School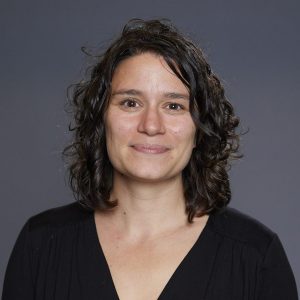 Louise Weed, MS
Instructor, Health Policy & Management Harvard T.H. Chan School of Public Health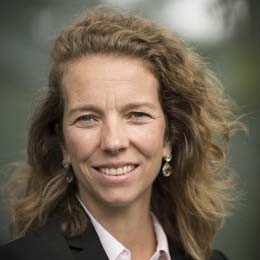 Lindsay Hunt, MEd
Director of Health Systems Transformation, Harvard Medical School Center for Primary Care

Aaron Hoffman, DO, MPH
Practicing Family Physician at the Ambulatory Practice of the Future at Massachusetts General Hospital, Medical Director, Physician Assistant Program, Massachusetts General Hospital Institute of Health Professions and Adjunct faculty Member at the Institute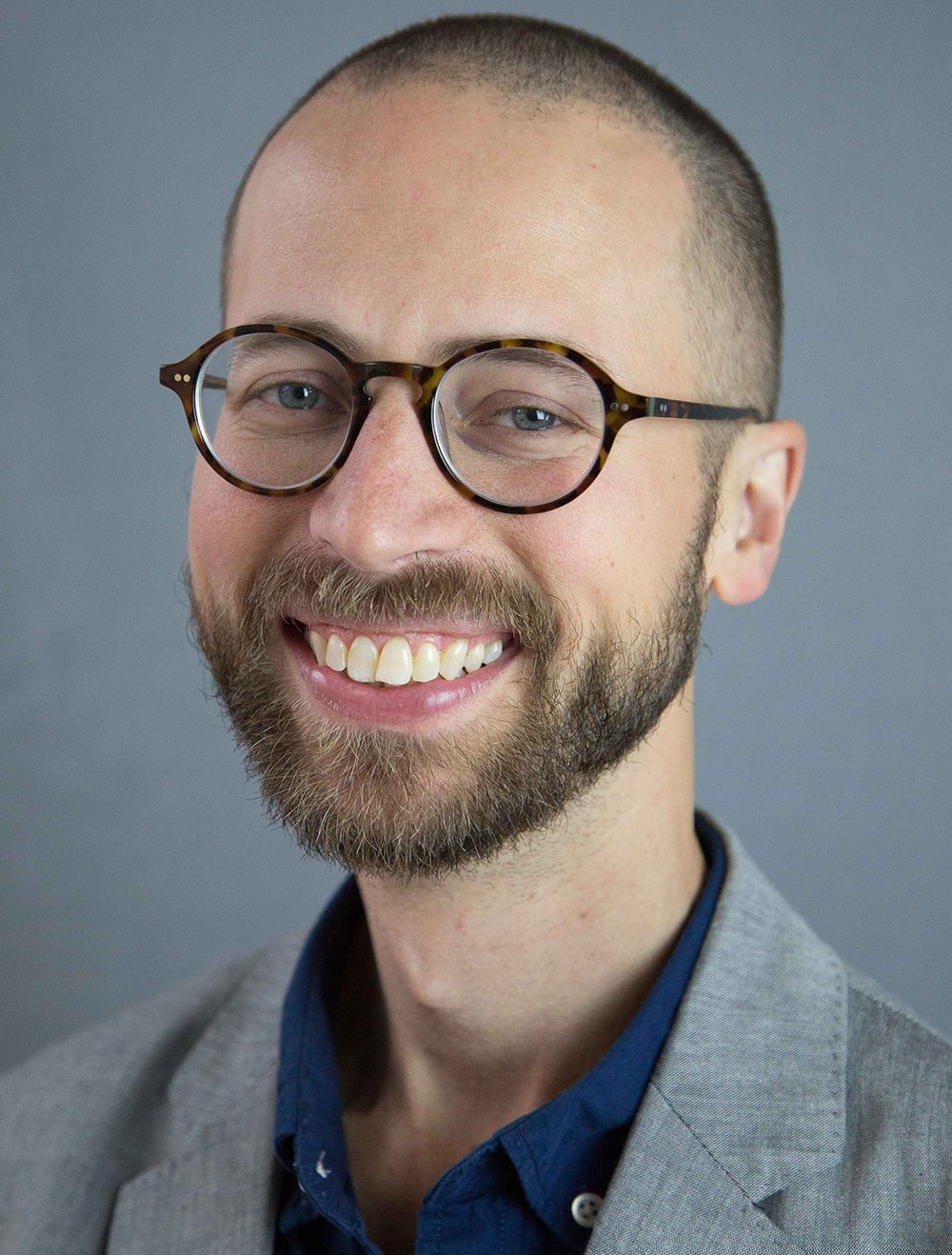 David Margolius, MD
Primary care physician, Medical Director of Systems Improvement, MetroHealth System, Cleveland, OH. Clinical Center Director of Adult Primary Care, Assistant Professor, School of Medicine, Case Western Reserve University. Associate Director, Division of General Internal Medicine, MetroHealth
A Live Webcast Hosted By:
Harvard Medical School, Center for Primary Care and
Clinical Directors Network, Inc. (CDN)
This course is approved for up to 15.0 Prescribed credits (1.5 Credits for each session) by the American Academy of Family Physicians (AAFP)