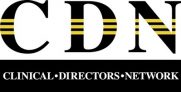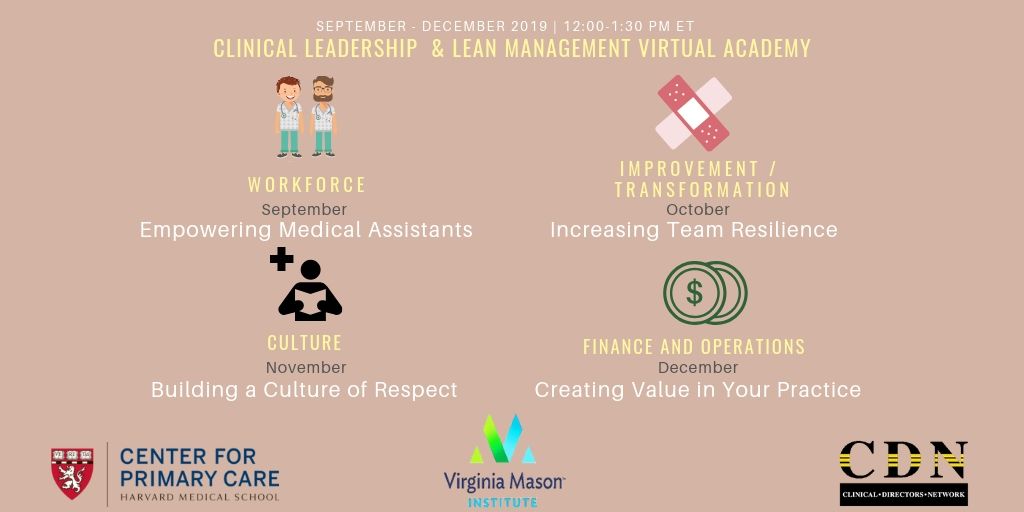 Join Clinical Directors Network, the Harvard Medical School Center for Primary Care and the Virginia Mason Institute for a short course designed to cover some of the most challenging topics leaders face within their practices. The series will combine theory and concepts with practical application and examples. The series includes sessions in four distinct challenge areas: workforce, improvement/transformation, finance/operations and culture.
---
Lean can be powerful when implemented as a management method in a health care organization.

In this course, participants learn how to empower staff to be directly involved in generating and testing new ideas, implementing process improvements to achieve organizational goals, and improving quality and safety of patient care.

Implementing Lean Management in your organization can drive improvements that:

Create value

Eliminate waste

Reduce your or your staff's burden of work

This series will enable participants to apply lean tools and methods to processes in their organization in order to identify immediate opportunities to benefit from thinking and acting in a lean framework.

Through skills developed during this course, leaders can use a lean framework to promote better stewardship of resources and provide improved care, faster and more affordably, to patients.
COURSE OUTLINE
A Four Short Course Designed to Enhance Clinical Leadership Skills & Teach You
How to Implement Lean Management in Your Practice!

THE SECOND TUESDAY OF EVERY MONTH AT 12:00-1:30 PM ET FROM
SEPTEMBER 2019 THROUGH DECEMBER 2019
          Date/Time                                      Key Concepts

Tuesday, September 10th, 2019
from 12:00 PM to 1:30 PM ET

Tuesday, October 8th, 2019
from 12:00 PM to 1:30 PM ET

Tuesday, November 12th, 2019
from 12:00 PM to 1:30 PM ET

Tuesday, December 10th, 2019
from 12:00 PM to 1:30 PM ET

Session 1: Empowering Medical Professionals
This session's key concepts are turnover and retention issues, training, top of license work, and flow.

Session 2: Increasing Team Resilience
This session's key concepts are resilience vs. burnout, individuals vs. team, and organization/system interventions.

Session 3: Building a Culture of Respect
This session's key concepts are trust, psychological safety, and respect.

Session 4: Creating Value in Your Practice
This session's key concepts are relating what is best for patients to what may be best for the business, and accountability. 
Erin E. Sullivan, Ph.D.


Research Director, Center for Primary Care at Harvard Medical School, Lecturer, Department of Global Health and Social Medicine, Harvard Medical School

Aaron Hoffman, DO, MPH


Medical Director, Physician Assistant Studies Program, MGH Institute of Health Professions; Faculty, Center for Primary Care Harvard Medical School

Ingrid Gerbino, MD, FACP


Chief of Primary Care, Virginia Mason Medical Center. Senior Physician Faculty, Virginia Mason Institute

Chris Backous, MHA


Transformation Sensei


Virginia Mason Institute

Lynne A. Chafetz


Senior Vice President and General Counsel of Virginia Mason Health System
A Live Webcast Hosted By:
Clinical Directors Network, Inc. (CDN) 
This course is approved for up to 6.0 Prescribed credits (1.5 credits for each session) by the American Academy of Family Physicians (AAFP)