NHLBI African American Blood Pressure Control RCTs Tools and Resources for Dissemination
Project Background: African Americans suffer disproportionately higher rates of hypertension-related complications compared to whites. Practice-based approaches for hypertension control in African Americans are limited.
Objective:  To evaluate the effectiveness of a practice-based, multi-component intervention compared with usual care (UC), in improving blood pressure (BP) control among hypertensive African Americans.
Design: Cluster randomized controlled multicenter trial.
From research to practice, a need for a shift in focus
Although empirical evidence supports the efficacy of interventions designed to improve blood pressure (BP) control in treated hypertensive (HTN) patients, translation of these approaches to clinical practice is suboptimal especially among hypertensive African Americans. However, if these interventions cannot find a place in standard medical care, their impact on public health will be negligible.
This study emphasizes the translation of a series of empirically-validated interventions into clinical practice by focusing on their integration into standard practice in several C/MHCs that serve minority populations.
Research Study Components:
1. Meta-Analysis and Dissemination Webcast
presentations:
Tobin, J.N., Pavlik, V.N., Ogedegbe, G., Hyman, D.J., Feldman, P., Schwartz, J.E., Chan, W., Mcdonald, M., Svarstad, B.L., Cassells, A., Einhorn, P. "Multi-Level Interventions to Improve Hypertension Control for African-Americans: Lessons Learned and Tools from NHLBI-Funded Cluster Randomized Trials" Accepted for Presentation at ISHIB2015: The 28th Annual International Interdisciplinary Conference on Hypertension and Related Risk Factors in Ethnic Populations, New York, NY, May 14 – 15, 2015.
Multi-level Interventions to Improve Hypertension Control for African-Americans: Lessons Learned & Tools from NHLBI-funded Cluster Randomized Trials
Presented by: Paula Einhorn, MD, MS, Gbenga Ogedegbe, MD, MS, Penny Feldman, PhD, David Hyman, PhD, Bonnie L. Svarstad, PhD, Valory Pavlik, PhD, Jonathan N. Tobin, PhD
Tuesday, June 9, 2015, 12:00-1:30 PM EDT (CDN Webcast)
3. Baseline Results
Baylor College of Medicine (TX) Grant No. R01 HL078589 (NHLBI)
Hyman DJ, Pavlik VN, Griesinger AJ, ChanW, Bayona J. Mansyur C., Simms V., Pool J. "Effect of a Physician Uncertainty Reduction Intervention on Blood Pressure in Uncontrolled Hypertensive- Cluster Randomized Trial." J Gen Intern Med, 27(4), 413-419, 2012. PMC ID #: PMC3304039
Pubmed URL: http://www.ncbi.nlm.nih.gov/pmc/articles/PMC3304039/
FullArticle URL: https://www.ncbi.nlm.nih.gov/pmc/articles/PMC3304039/pdf/11606_2011_Article_1888.pdf Grigoryan, L., Pavlik, V. N., & Hyman, D. J. "Patterns of nonadherence to antihypertensive therapy in primary care." The Journal of Clinical Hypertension, 15(2), 107-111, 2013. PMC ID #:
Pubmed URL: http://www.ncbi.nlm.nih.gov/pmc/articles/PMC3711402/
Full Article URL: http://onlinelibrary.wiley.com/doi/10.1111/jch.12030/epdf
New York University-Clinical Directors Network, Inc. (NY/NJ) Grant No. R01 HL078566 (NHLBI)
Fernandez, S., Tobin, J.N., Diaz-Gloster, M., Cassells, A., Khalida, C., Ogedegbe, G."The Counseling African Americans to Control Hypertension (CAATCH) Trial: Baseline Demographic, Clinical and Psychosocial Characteristics" Implementation Science, 6:100-113, 2011. PMC ID#: PMC3179927
Pubmed URL: http://www.ncbi.nlm.nih.gov/pmc/articles/PMC3179927/
Full Article URL: http://www.biomedcentral.com/content/pdf/1748-5908-6-100.pdf
4. Main Effects/Results
New York University-Clinical Directors Network, Inc. (NY/NJ) Grant No. R01 HL078566 (NHLBI)
Ogedegbe, G., Tobin, J.N., Fernandez, S., Cassells, A., et al. "Counseling African Americans to Control Hypertension (CAATCH): Cluster Randomized Clinical Trial Main Effects." Circulation, 2(3), 249-256, 2014.
Pubmed URL: http://www.ncbi.nlm.nih.gov/pubmed/24657991?dopt=Abstract
Full Article URL: https://www.ncbi.nlm.nih.gov/pmc/articles/PMC4565195/pdf/nihms573121.pdf
Visiting Nurse Service of New York (NY/NJ) Grant No. R01 HL078585 (NHLBI)
Pezzin, L.E., Feldman, P.H., Mongoven, J.M., McDonald, M. V., Gerber, L. M., & Peng, T. R. Improving blood pressure control: results of home-based post-acute care interventions.Journal of Gen Internal Med, 26(3), 280-286, 2011. PMC ID #: PMC3043175
Pubmed URL: http://www.ncbi.nlm.nih.gov/pmc/articles/PMC3043175/
FullArticleURL: http://www.ncbi.nlm.nih.gov/pmc/articles/PMC3043175/pdf/11606_2010_Article_1525.pdf
Other Papers/Publications
Baylor College of Medicine (TX) Grant No. R01 HL078589 (NHLBI)

New York University-Clinical Directors Network, Inc. (NY/NJ) Grant No. R01 HL078566 (NHLBI)

Visiting Nurse Service of New York (NY/NJ) Grant No. R01 HL078585 (NHLBI)
Home Blood Pressure Monitoring Tools & Home Blood Pressure Log
New York University-Clinical Directors Network, Inc. (NY/NJ) Grant No. R01 HL078566 (NHLBI)
University of Wisconsin-Madison (Midwest) Grant No. R01 Hl078580 (NHLBI)
Home Blood Pressure Monitoring Tools
Blood Pressure Tracker: Know Your Numbers
Home Blood Pressure Log
Manage Your Medications
Patient Help Tools
Shake Your Salt Habit
Add Steps to Your Day
DASH Eating Plan
NHLBI Guide to Lowering Blood Pressure
New York University-Clinical Directors Network, Inc. (NY/NJ) Grant No. R01 HL078566 (NHLBI)
Clinician Feedback Monitoring
Clinician Feedback Form
Visiting Nurse Service of New York (NY/NJ) Grant No. R01 HL078585 (NHLBI)
VNSNY Hypertension Study Intervention Contact and Management Protocol Review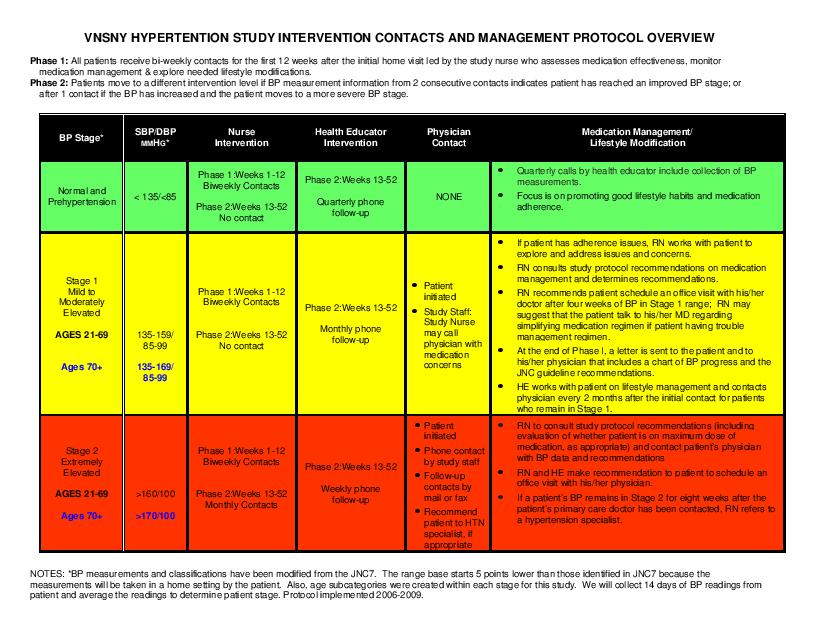 University of Wisconsin-Madison (Midwest) Grant No. R01 Hl078580 (NHLBI)
Brief Medication Questionnaire-

Clinical Checklist and Procedures
Health Checklist
Consultation Tips Health Checklist
Protocol for Measurement of Blood Pressure by Intervention Team
Team Action Plan
Baylor College of Medicine (TX) Grant No. R01 HL078589 (NHLBI)
Blood Pressure Monitoring Tool
Hypertension Monitoring and Tracking Form
New York University-Clinical Directors Network, Inc. (NY/NJ) Grant No. R01 HL078566 (NHLBI)
University of Wisconsin-Madison (Midwest) Grant No. R01 Hl078580 (NHLBI)
Appointment Materials
Appointment Cards
Reminder First Visit
Reminder Missed you
Reminder Follow-up Visit
Record Keeping
Pharmacist Counseling Tips: BMQ
TEAM Log and Progress Notes
CME Education
CDN CAATCH Project – Hypertension and Heart Failure/span>
Presented by: Gbenga Ogedegbe, MD, MPH, MS
ALLHAT Clinical Trial Results
Presented by: Michael Alderman, MD
Improving Blood Pressure Treatment in the Community: How the JNC7 Recommendations and ALLHAT Trial Results Relate to Your Practice
Presented by: M. Monica Sweeney, MD, MPH
Blood Pressure Control in Hispanic Participants in ALLHAT
Presented by: Karen Margolis, MD, MPH
Role of Lifestyle Changes in the Treatment of Hypertension: When and How?
Presented by: Lawrence Appel, MD
Management of Hypertension in Chronic Kidney Disease: A Report from the ALLHAT Study
Presented by: Mahboob Rahman, MD, MS
Outcomes in Hypertensive Black and Non-Black Patients Treated with Chlorthalidone, Amlodipine and Lisinopril
Presented by: Jackson Wright, MD, PhD
Publications:
1. Pavlik, V.N., Chan, W., Hyman, D.J., Feldman, P., Ogedegbe, G., Schwartz, J.E., McDonald, M., Einhorn, P., Tobin, J.N., "Evaluating Health-Systems Level Hypertension Control Interventions for African-Americans: Lessons from a Pooled Analysis of Three Cluster Randomized Trials." Current Hypertension Reviews (In Press, 2015).PMC ID#: 25808682
Pubmed URL: http://www.ncbi.nlm.nih.gov/pubmed/25808682